Community Development Programs
Our Community Development programs are designed to improve the quality of life of local communities through collaboration that maximizes community potential and initiative.
The programs cover health, education, socio-economic empowerment as well as infrastructure development, and socio-cultural and religious agendas. Each of our operational areas have distinct geographical conditions, community dynamics and cultures. Hence, our Community Development programs are varied across our estates to suit the local context, challenges, and needs.
At ANJ, we believe in the importance of empowering and engaging with the communities in and around our operating sites. Addressing community welfare to the same degree as we would our employees, improves relations both through showing that ANJ cares, and by providing a platform for interaction between the Company and the local population.
As part of our social responsibility agenda, we have initiated a range of projects to improve the prospects of local communities. We also prioritize providing opportunities for individuals to take development into their own hands. ANJ believes that guiding development, rather than prescribing plans, provides appropriate ownership of any benefit gained.
The targets of our health programs vary depending on the quality of existing public healthcare facilities and the prevalence of health problems in each area.
In all of our locations, we provide health services to our employees that are also open to the general public. Our network of seven main clinics and five smaller support clinics are located in remote areas and staffed by competent doctors, nurses, and midwives, providing easy and accessible healthcare services to local communities where these services are scarce. In compliance with government regulations, our clinics are required to provide health services under the National Health Insurance (Jaminan Kesehatan Nasional/JKN) program and, as such, our clinics are part of the wider national health services network. In September 2021, our clinic in West Papua obtained its operating permit from the local government's health office and can start serving JKN patients administered by the Healthcare Social Security Agency (Badan Penyelenggara Jaminan Sosial Kesehatan – BPJS Kesehatan).
We are also active in promoting good sanitation and hygiene behavior, especially during the pandemic. Our water, sanitation, and hygiene programs became much more critical during the COVID-19 pandemic. We strengthened our health promotion and education activities on sanitation and hygiene (Perilaku Hidup Bersih dan Sehat). Prevention measures have been in place since the beginning of the pandemic. Activities include raising awareness about prevention, and applying health protocols such as wearing masks, washing hands, and avoiding crowded areas (Menggunakan masker, Mencuci tangan, dan Menghindari kerumunan/3M).
As a form of COVID-19 prevention and control, we carried out simulations for handling patients suspected of being infected with COVID-19. These simulations were carried out to increase the readiness of the Company's clinic staff if faced with COVID-19 patients and cases. Given that our clinics are not only accessed by employees but also people from villages around the company, it is important for us to ensure the safety of patients and health workers by taking proper precaution when caring for patients.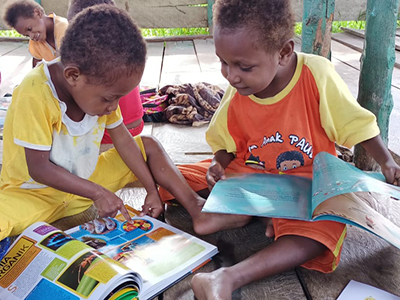 There are large disparities in the quality of education between regions in Indonesia. Rural and remote are as often have far less adequate facilities and teaching quality when compared to larger urban centers. For this reason, we have focused on improving access to quality education for the children of local communities and our employees.
In West Papua, we worked with our partner, the Alirena Foundation, in the villages of Sumano and Benawa on an early education program that supports playgroups PAUD and kindergartens (TK) in three key aspects: improving the system and organization of formal early education, increasing the capacity of local teachers, and educating parents. The program intends to create ownership to and serviceability of PAUDs and TKs by drawing upon local customs. In 2021, we added a new teaching subject in our sanitation and hygiene program called Clean and Healthy Living Habits or PHBS, and gardening and poultry farming programs.
We intend to expand the education programs to cover more areas and to include the Elementary School (SD) level in 2022. We aim to work together with the local government and discussions are ongoing to get their support.
In addition to supporting education for our local communities, we also place a high value on providing quality education for our employees' children at our palm oil estates. The Austindo Nusantara Jaya Agri Education Foundation manages six schools across our Sumatra and Kalimantan estates from kindergarten through to junior high school. In North Sumatra, we completed an e-Library system at the end of 2021 and introduced it in one of the schools located in Binanga. The e-Library system is designed to accommodate library administration activities that were previously completed manually. The system goes beyond that by including digital school announcements, a summary of school activities, and e-books that can be accessed from anywhere with a cloud server. We plan to expand the e-Library system to our other schools and add more e-books, not only for the students but also for the teachers.