Responsible Development Programs and Socio-economic Empowerment
Our business is deeply motivated by the intention to contribute to the economy and drive growth in Indonesia, particularly in areas where we operate, as stated in our vision to elevate the lives of people and nature. Within that context, the socio-economic welfare and livelihood generated directly by our company through our operations and indirectly through our larger value chain, is a core aspect of one of our triple bottom line pillars: prosperity. We believe that sustainability can only be achieved if our activities are able to improve welfare and livelihood opportunities in all the areas we operate.
Our commitment to sustainability considers the UN Sustainable Development Goals (SDG) whereby creating economic opportunities is a central part of how we contribute to achieving the SDGs. We believe that sustainable growth for prosperity means building partnerships and opportunities with the local communities. This approach aims to enhance the positive impacts of our economic activities, ensuring that local communities are not marginalized from the benefits of growth and economic opportunities. This includes improvement of food security for surrounding communities and improvement of nutrient intake, especially for children less than 5 years old.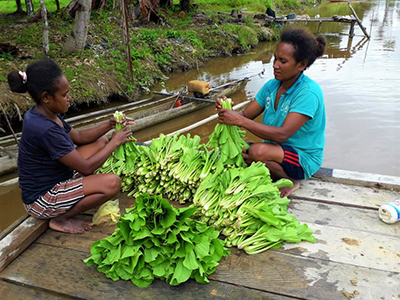 In 2018, we commenced the Responsible Development (RD) Project initiative for all employees with the aim of encouraging our employees to think outside the box and outside their comfort zone in stepping up to contribute to the corporate vision. Every RD project has a clear objective which clearly links to strengthening economic resilience and improving business prosperity, as well as building social and environmental resilience which benefits the community and the environment. For a project to be selected by management, the project proposal must have a clear objective, structure, detailed activities and milestones and timeline as well as the budget for the project. In some cases, the project must raise funds by itself. The project progress is monitored and evaluated every six months by the project management and the direct superior of the staff. Progress reports are made to the BOD and the CSR & Sustainability Committee. We focused on the vegetable gardens project in West Papua that has successfully improved the nutrition of less than 5-year-old children, improving stunting and malnutrition cases in the area. As volume and acceptance grew among women in the area, the regular harvest is adequate to supply our workers' needs and our construction vendors' needs. The vegetable garden initiative currently became a Group-wide initiative and have expanded the initiative to the use of eco-enzymes and Warung Mama.
We have various initiatives through our RD projects and community development programs that aim to increase the socio-economic welfare of our local communities and designed to build the skills and confidence of local communities to cope with and benefit from transforming to a more modern economy. Programs include: Warung Mama, the transportation cooperative, the savings cooperative, and vegetable gardening in our East Region. In our West Region, we have amongst others project that explores the potential for innovation in cattle farming, fresh-water fish farming, and floating rice fields as an additional source of income for farmers, as well as the Bentara project which builds capacity in hospitality and tourism.
Our ongoing community programs also contribute to enhancing food security in our areas. These programs are developed in close involvement of the local communities to ensure social and cultural relevance. Our vegetable garden program in West Papua promotes and educates the local community to farm vegetable crops such as spinaches, water spinaches, long beans, bok choy, eggplants, and tomatoes. This program enhances their nutritional needs and diversifies their crops.
We have also introduced innovative paddy farming methods to local farmers, such as floating rice paddy farming or the use of biological controls for pest management. The programs are designed to increase local farmers' yields and support the availability as well as the access to this staple food in our surrounding communities. Our award-winning floating paddy program in Belitung, for instance, has successfully transformed flooded areas that were unproductive into high-yielding paddy fields. Acknowledging the success of this method, the local government in Belitung has started to replicate the program in other areas.
Warung Mama is Indonesian for Mother's Stall, representing a modest place to eat. We started this project by educating women about hygiene in cooking, as well as a variety of food and cooking methods. Then we enabled them to start cooking and selling their food to our workers. Currently, we have two Warung Mama that are running, which introduced sago noodle and sago meatball in West Papua.